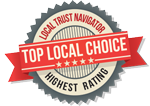 This business has met all of the Local Trust Navigator
requirements to qualify for the TOP LOCAL CHOICE badge.
Local Trust Navigator™ Reviews
Chung's Tae Kwon Do Institute
Chung's Tae Kwon Do Institute
Average rating:
0 reviews
Other Reviews
Reviews from other sources on the web
Do not listen to the negative reviews, the discipline handed out is justified and not out of line. If you want your kids to learn a skill, this is your place. I witnessed a firm but caring approach with my children, they were corrected when they stepped out of line and built up when they excelled. I witnessed a clean Dojang, with an area for kids to do homework and a CCTV to watch practice. We also used the after school program, and found it to be amazing. Our child was picked up from school by a safe means of transportation, given an area to work on school work and a lesson each day. I found great value in this program and hope we can continue very soon.
My son who is now 12 has been attending Chung's for the past 6 years and is now a junior black belt (black belt candidate). I took classes for about 6 months when he first started but then I changed jobs and got too busy to continue - I only made it to green belt. Master Ron and his family that run the school are friendly and honest about their expectations. Master Ron expects everybody to hold to the tenets of Tae Kwon Do: Courtesy, Integrity, Perseverance, Self Control, and Indomitable Spirit. During one of our first classes, Master Ron had to discipline my son for goofing off during class. He did raise his voice and got right in my son's face about it. Later, during the same class when my son got something right, Master Ron put his arm around him and told him that he was now doing a good job. He is just as quick to praise good behavior as he is to discipline for bad. Which is exactly what our son needed at the time. If you (or your child) can't handle honest criticism and hard work to become a better person and athlete, then maybe Chung's isn't for you. Chung's Tae Kwon Do Institute has moved several times over the years (we started attending class at Master Ron's house in his basement), but in their latest location they do have a CCTV system set up for parents to watch class from the waiting room/reception area. Master Ron has always allowed parents to observe classes whenever they choose since we started there.
I really enjoyed my Hapkido class at Chung's Tae Kwon Do. The instructors welcome all ages, all sizes and all levels - from very beginner to advanced. My instructor, Master Ron, was patient, respectful, and an excellent teacher, and my class consisted of teens and adults from 40-60. The school also teaches character development while they work on the physical forms and moves. I am also aware that Chung's has one of the most outstanding after school programs in the Matsu Valley. This is the best Tae Kwon Do and Hapkido offering I have found in the Matsu.
Excellent and safe place for individuals, families or kids. Master Ron is patient, but consistent and will make sure you are learning what you need to learn...
My son who is now 12 has been attending Chung's for the past 6 years and is now a junior black belt (1st Dan). I took classes for about 6 months when he...
---
Location Information:
Find Us:
Chung's Tae Kwon Do Institute
9191 E. Frontage Rd
Palmer
AK
US