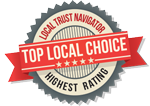 This business has met all of the Local Trust Navigator
requirements to qualify for the TOP LOCAL CHOICE badge.
Hurley Chiropractic and Wellness Center offers a holistic approach to pain relief, optimal health, and creating balance in the body.
Chiropractic care restore proper motion to joints that are stuck or misaligned.
Therapeutic muscle work with our Massage Therapists to release tension and promote healing.
A variety of Therapies provide pain relief and reduces inflammation.
Physical rehab strengthens core and postural muscles to improve functional movement to help you feel great in your daily life as well as getting you back to your favorite activities!
Our doctors and therapists are experienced in multiple techniques and have access to tools to help anyone at any age and with any health condition.
From newborns with colic, pregnant patients with hip pain, athletes working to improve performance, to grandparents wanting to play with their grandkids again we can help you!
Local Trust Navigator™ Reviews
Hurley Chiropractic and Wellness Center
Hurley Chiropractic and Wellness Center
Average rating:
0 reviews
Other Reviews
Reviews from other sources on the web
Shannon Womack (SNIK SNAT)
This is my new favorite place! Last week while I was at work I completely pulled my back out. I set up an appointment with them and they got me all lined out. Also when you schedule an alignment you get a 30 minute massage! AMAZING! I'm going back this week! Can't wait!
This is the place to go if you're in the market for chiropractic help! Dr. Hurley and Dr. Broom are very thorough in theit practice, more than just an adjustment like most places. The entire staff at at Hurley chiropractic are incredibly nice and make you feel as if you're just like family! Highly recommend!
Great chiropractic team I look forward to coming to get adjusted and a massage every week… Y'all are the best!!!
I have been a patient at Hurley for years. They recently have come under new management. All year, I have paid to meet my insurance deductible. At the...
I used to be happy with Hurley's. I have been going there for 4 years. I quit going in April of 2019 and was told I owed 1400 dollars after what my...
Awesome staff. New Maumelle/North Little Rock location.
---
Hurley Chiropractic and Wellness Center Photo Gallery
Location Information:
Find Us:
Hurley Chiropractic and Wellness Center
2100 Meadowlake Road, suite 10
Conway
AR
72032
US