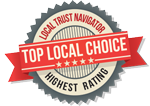 This business has met all of the Local Trust Navigator
requirements to qualify for the TOP LOCAL CHOICE badge.
Local Trust Navigator™ Reviews
KarateBuilt Grand Rapids
KarateBuilt Grand Rapids
Average rating:
9 reviews
Jun 2, 2022
AmaZing!!
This place is amazing! Facility and instructors are all top notch. Love the location as well.

Great for any age! Self-discipline for the kids. Firearm and Self-defense training for adults.
Jun 2, 2022
Great Instruction
Everyone can benefit from exceeding their personal challenges, and Master Flees is great at working with all skill levels. If you start from only being able to lift your foot a bit off the ground... you are welcome here. Master Flees has a program that will help YOU advance from YOUR level in an encouraging environment of people wanting to help YOU succeed.

Working with Master Flees for many years I been able to build strength and flexibility that is impressive for a body that will soon be 50! I now have confidence to easily do things I didn't think possible, Thanks to KarateBuilt Grand Rapids.
Jun 2, 2022
Sculpted My Life
Mr. Flees sculpted me from a 2nd grader with bully issues into a confident and healthy young adult. Over my decade long journey with Mr. Flees I grew to respect my juniors and seniors, I learned to show compassion and empathy for my friends and enemies (now friends), and I learned to fend for myself not just with physical means, but with my brain too. Martial arts trains the whole body, and no one teaches it better than my instructor Mr. Flees. A veteran and newly recognized Master of martial arts, he is the perfect person to guide your young ones, or teach you how to protect yourself.
May 26, 2022
Love this karate place
We love the owners and staff. They have been amazing to watch work with my kids. We have been coming for a while now and we love it and have learned a lot.
May 26, 2022
Martial Arts at its best
I have been training with KarateBuilt for about 17 years. I never thought I would make as far as I have. I started 36 years ago in California. I have received the best training and encouragement at KarateBuilt. I have 7 Michigan State Championship title that never would have happened without them.
May 26, 2022
Best Martial Arts in the Mitten
I have been a student for 8 years. I previously took martial arts in the south with well known martial artists. When I moved up North I looked around and was disappointed until I found Karate Built. They work with all ages young and old as well as those with various types of disabilities. I fit right in and was amazed how genuine they are right down to the motto they teach. Respect, discipline, vision, self control, communication and integrity. I would recommend this academy to everyone. My daughter and grand daughter love this place as well. It's a place to learn and grow and feel safe doing it. You get out of it what you put into it!
May 26, 2022
Great
I have known Master Flees for 30 years and I have trained beside him. Great teacher, great martial artist, and forever the innovator. He is the perfect guy to work with!
May 26, 2022
Excellent
From the moment I asked questions there was a sense we were in good hands. Friendly, experienced and very accommodating. Great place and family orientated.
May 26, 2022
Excellent service
Our entire family has trained with Master Flees, beginning when our son was very young. We went through the leader ship program so that we could integrate life skills along with the martial arts training and helping our son learn discipline, respect, and important life skills that helped him well into adulthood. I highly recommend martial arts training for the discipline and structure it provides to youth as well as the exercise provided for entire families.
Other Reviews
Reviews from other sources on the web
---
Location Information:
Find Us:
KarateBuilt Grand Rapids
6469 28th St. SE
Grand Rapids
MI
49546
US